Diese Diashow benötigt JavaScript.
Tobias Maasland ist cast member of two Hamburg-based improv groups:
He also does improvised Beatbox for those mentioned and other groups. If you are interested in doing a workshop on this with Tobias – mail me (see address here).
When not on stage for music, voice acting and improv, he is a public speaker on communication, crisis management and out-of-the-box-thinking.
Podcast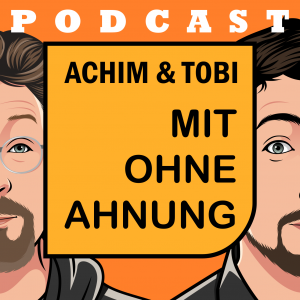 For all german-speaking visitors you should also check out the brand-new monthly (german) podcast Achim und Tobi mit ohne Ahnung. Also available on Spotify and iTunes.
See more under https://mitohneahnung.de or click on the image on the right.
Upcoming apperances
Anfang 07/2019, Hamburg: Podcast Episode
Anfang 08/2019, Hamburg: Podcast Episode
Anfang 09/2019, Hamburg: Podcast Episode
18.10.2019, Hamburg: Podcast Live Performance
In the past
Anfang 06/2019, Hamburg: Podcast Episode
Anfang 05/2019, Hamburg: Podcast Episode
Anfang 04/2019, Hamburg: Podcast Episode
Anfang 03/2019, Hamburg: Podcast Episode
Anfang 01/2019, Hamburg: Podcast Episode mit Gast
06.12.2018, Hamburg: Benefitz-Impro-Gala (Ilse, Dracula & Co) – Actor, Beatbox
Anfang 12/2019, Hamburg: Podcast Episode
06.11.2018, Hamburg: Mashup "Halloween" mit Meet the Monsters (Ilse, Dracula & Co) – Voice Actor
Anfang 11/2019, Hamburg: Podcast Episode
20.10.2018, Hamburg: Impro Doppelpack (Impromptü) – Actor, Voice actor, Beatbox
18.10.2018, Hamburg: Improshow (Impromptü) – Actor, Beatbox
13.10.2018, Köln: Improabend mit den Taubenhauchern (Impromptü) – Actor, Beatbox
Anfang 10/2019, Hamburg: Podcast Episode
21.09.2018, Karlsruhe: Präsentationstechniken (inovex) – Speaker "Wie man (nicht) präsentieren sollte – Eine Erfahrungssamlung + Diskussion + ein bisschen üben"
15.09.2018, Hamburg: Fernsehabend (Impromptü) – Beatbox, Lights
07.09.2018, Hamburg: Die neue, neue Improshow (Ilse, Dracula & Co) – Actor, Host
02.09.2018, Hamburg: Gartenmärchen / Detektivstory (Ilse, Dracula & Co) – Actor
25.08.2018, Hamburg: Lange Impronacht (Impromptü) – Beatbox
06.07.2018, Rödelheim: Sommerplenum (inovex) – Speaker "Unter Druck – Effektive Kommunikation in Krisensituationen"
06.07.2018, Rödelheim: Sommerplenum (inovex) – Improv Coach "Improvisation im Beruf – Kurzeinführung aus Sicht eines Improvisationstheater-Spielers + Workshop"
09.06.2018, Hamburg: Improbingo (Impromptü) – Actor
10.04.2018, Hamburg: Die neue neue Improshow (Ilse, Dracula & Co) – Actor
10.08.2017, Hamburg: Die neue Improshow (Ilse, Dracula & Co) – Actor
24.11.2016, Hamburg: 6. BI Stammtisch in Hamburg – "Wie sabotiert man sein Business Intelligence garantiert? Ein Vortrag und Diskussion Anregung von Tobias Maasland."
07.07.2016, Hamburg: Workshop-Werkshow – Actor